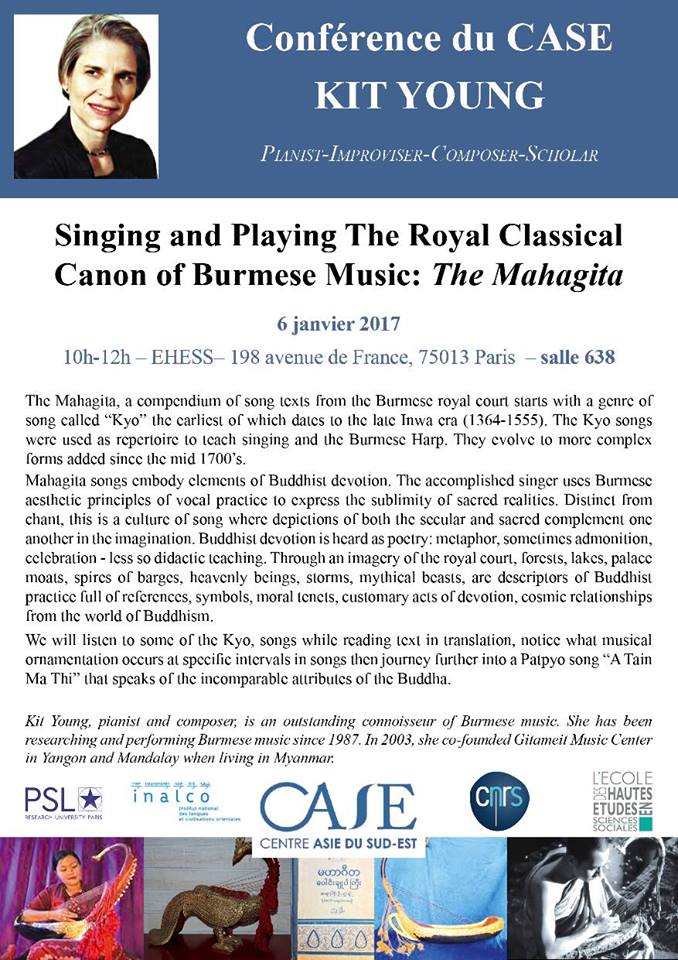 Conférence du CASE
KIT YOUNG Pianist-Improviser-Composer-Scholar
Singing and Playing The Royal Classical Canon of Burmese Music: The Mahagita
6 January 2017
10h-12h – EHESS– 198 avenue de France, 75013 Paris – salle 638
The Mahagita, a compendium of song texts from the Burmese royal court starts with a genre of song called "Kyo" the earliest of which dates to the late Inwa era (1364-1555). The Kyo songs were used as repertoire to teach singing and the Burmese Harp. They evolve to more complex forms added since the mid 1700's.
Mahagita songs embody elements of Buddhist devotion. The accomplished singer uses Burmese aesthetic principles of vocal practice to express the sublimity of sacred realities. Distinct from chant, this is a culture of song where depictions of both the secular and sacred complement one another in the imagination. Buddhist devotion is heard as poetry: metaphor, sometimes admonition, celebration – less so didactic teaching. Through an imagery of the royal court, forests, lakes, palace moats, spires of barges, heavenly beings, storms, mythical beasts, are descriptors of Buddhist practice full of references, symbols, moral tenets, customary acts of devotion, cosmic relationships from the world of Buddhism.
We will listen to some of the Kyo, songs while reading text in translation, notice what musical ornamentation occurs at specific intervals in songs then journey further into a Patpyo song "A Tain Ma Thi" that speaks of the incomparable attributes of the Buddha.
Kit Young, pianist and composer, is an outstanding connoisseur of Burmese music. She has been researching and performing Burmese music since 1987. In 2003, she co-founded Gitameit Music Center in Yangon and Mandalay when living in Myanmar.