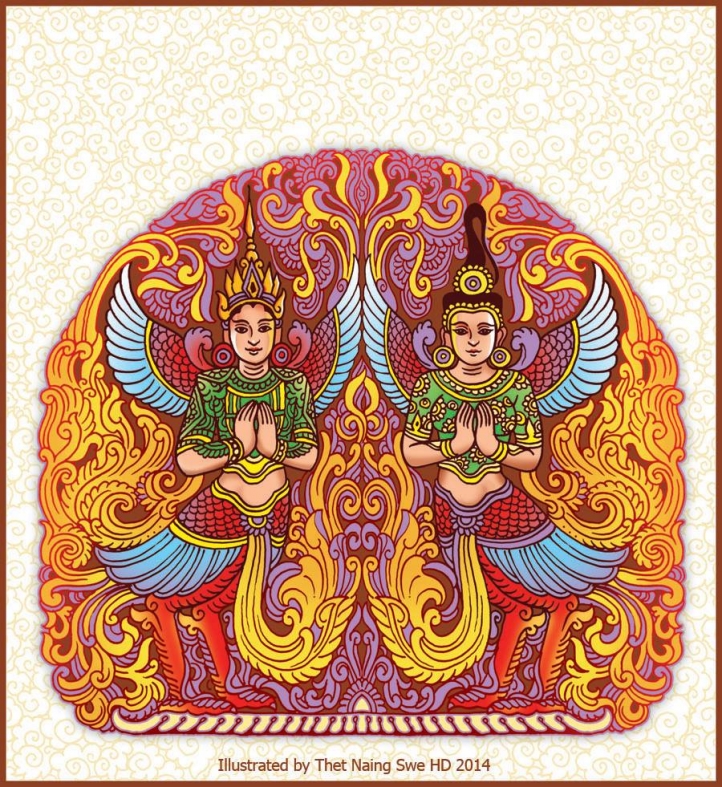 Friday, October 3, 2014 – 7:30pm
University of Washington | School of Music | Brechemin Auditorium
UW Ethnomusicology presents Musical Voices from Myanmar, an evening of scholarship and performance focused on the music of Burma. Guests include lecturer Gavin Douglas, faculty member at the University of North Carolina-Greensboro; pianist Kit Young; and Ne Myo Aung, Fulbright scholar from Yangon, Myanmar.
I.  MULTIPLE MUSICAL VOICES FROM MYANMAR
 The immense variety of peoples found in Myanmar poses a conundrum for anyone attempting to represent the country musically.  With numerous video and audio examples this talk will offer several different perspectives through which to approach the myriad of music cultures in the country.
 Introduction by Gavin Douglas
 II.  BREATH, SPACE, TONE:  VOICING BURMESE SPEECH AND POETRY
 U Kyawt's poem "Da Hat Pan Bwe"  (In Praise of the Da Hat Teak Flower) Recitation by Ne Myo Aung with Kit Young
III.  Voicing Song with Accompaniment
from the"Mahagita (the Burmese compendium of classical song genres): "Pazin Taun Than Kyo" (The Sound of Dragonfly Wings Kyo)
Introduction and audience interaction featuring with si and wa timers Ne Myo Aung and Kit Young
 IV.  SANDAYA AND THE ECHOES OF A BURMESE SOUNDSCAPE
 1."Ah Taing Ma Thi," Myawaddy Min Gyi U Sa, composer Ne Myo Aung, Voice and Sandaya
 2. "Tain Taman" (first verse only) Sandaya Hla Htut, composer Saung U Win Hlaing recording and live performance Ne Myo Aung, Voice and Kit Young, Sandaya
 3. Charting some moments of "Than Yo" Improvisation by Gita Lulin U Ko Ko in a Robert  Garfias recording from 1971  Kit Young, Sandaya